Our Team
The EcoAthens team, natives and lovers of this ancient city, are devoted to safeguarding this region's beloved eco system. We regard ourselves as the city's eco-ambassadors by promoting Athens' glorious treasures, the known as well as the unheralded, the urban culture as well as the rural environs. Our mission is to join the City of Athens in her noble efforts to share this extraordinary largess with foreign guests.
Being an authority on eco friendly activities and guardians of the preservation of the Athens environment, the EcoAthens team is the absolute source to connect with authenticity about ecotourism philosophy and how it is practiced in and around Athens
Team members and associates have been carefully selected, including naturalists, athletes, gastronomists, archeologists, historians, boat skippers, agro- growers, geologists and the like, all of whom contribute to organize, consult, guide and support the tours and experiences presented by EcoAthens.
The EcoAthens team also operates CycleGreece our exclusive cycling division and Argosy our exclusive sailing division and Aegean Adventures for specialty niche travel throughout Greece.
Yiannis Skevis
Co-founder, President
Yiannis' family roots lie deep within two of Greece's regions that produce such wondrous mythology: Delphi and Sparta. Υiannis spent his early years close to nature in the mountain ranges surrounding his birthplace. He emigrated to the US at an early age, and grew up trans-Atlantic style, spending time between Nevada and Greece. His outdoor activities include swimming, mountaineering, road biking, soccer, skiing, sailing, tennis, and scuba diving where he is PADI certified. He has a special talent to build wooden sailing boats and has his Master Yachtsman license.
Colleen McGuire
Managing Director
Dividing her residence between New York and Greece comes natural to Colleen who is an adventurous world traveler.
Colleen has visited over 90 countries, accumulating such spectacular memories as cycling the Ho Chi Minh trail in Vietnam, stumbling on a circumcision ceremony in Timbuktu, chewing qat with women in Yemen, undergoing a spiritual journey with an Amazon shaman, sleeping in abandoned slave castles in Ghana and working with wild desert elephants in Namibia. Greece is one of her top five favorite countries.
Colleen's second passion is cycling. In 1997, she bicycled by herself from New York City to San Francisco, 3,765 miles, carrying all her gear: tent, sleeping bag, camping stove, food, tools, the basics.
After graduating from law school in New Orleans, for sixteen years Colleen ran her own housing rights law firm in New York City. And then Greece called . . .
Visit Colleen's blog.
Mary Voit
Photographer & Videographer
Mary's full name is Maria Voitovich, and she is from Belarus. She has not lived in her home country since 2005 at which time she took residence in Greece where she studied music and communication in American College of Greece. Mary has the ability to simultaneously perform her two favorite hobbies, road cycling and photography. She speeds ahead and then captures action shots of the clients as they come along.
Mary's also composes original music with the piano, and has also studied the harp. Mary's seemingly inexhaustible creativity can also be found in the kitchen.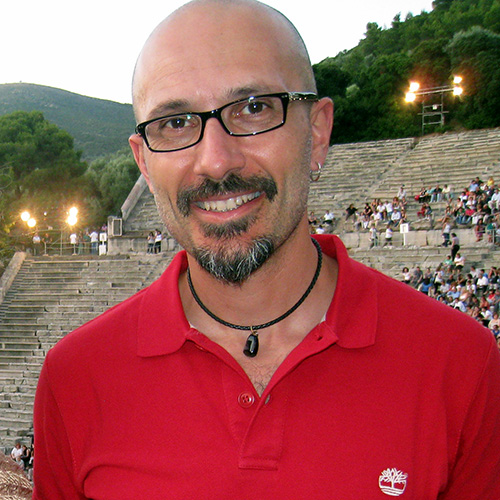 Panayioti "Pete" Sarris
Field Director
Pete manages the company's inventory and oversees the field operations.  He is a perfectionist. When it comes to bicycles, he is fanatic that each bike be in top condition and precisely adjusted for each rider's needs. Pete has a passion for cycling, road or mountain bike, often carrying his gear to camp out deep in some of Greece's more remote nature spots.
Pete is also a skilled painter, be it church icons or abstract art featuring boats and bicycles.Pete teaches painting to children with special needs.His daughter Zoe was born May, 2014 and Pete has already prepared his bike to enable her to ride with him.
Alex Ioannidis
Bike Guide
Alex can't remember whether he learned to walk first or bike first — that gives you an idea how long this warrior has been cycling. He started mountain biking competitively when he was 16 years old and now races in road cycling events as well. He is currently sponsored by Specialized bikes www.specialized.gr of Greece.
Alex has a stable of five "thoroughbreds," including two Orbeas, a Klein Attitude and a Specialized Stumpjumper. Oh, he's also an expert in computers and technology and has this uncanny ability to figure out technical stuff on the spot, from downloading waypoints on a GPS to accessing internet instantly on a palm pilot.
As a lead bike guide, Alex's popularity with our guests is unparalleled. He knows how to pace riders so that they ride hard without over-exertion. His cycling tips (such as changing gears) are appreciated. And he is an ace mechanic who can repair a flat tire or broken chain ring before you practically have time to take off your cycling gloves and helmet.
Giorgos Altyparmarkis
Chief Bike Mechanic
Giorgos is, hands down, the best bicycle mechanic in all of Greece. This is not surprising considering he runs his own bike repair shop in Athens that has been in his family for forty years, albeit originally for motorcycles. Name any region in Greece, and Giorgos has cycled there. He knows roads and off-roads better than any Greek cartographer. He has a grand affection for night riding during a full moon.
Brady Kiesling
History & Archaeology Consultant
Brady has a BA in Ancient Greek from Swarthmore and an MA from UC Berkeley in Ancient History and Mediterranean Archaeology. He has excavated at Ancient Corinth, Nemea, and Zagora (Andros) in Greece and Aphrodisias in Turkey. Brady joined the U.S. Department of State as a Foreign Service Officer in 1983 and was a political officer at the U.S. embassy in Athens from 1988-92. He returned to Greece as Political Counselor in 2000 and resigned in 2003.
Brady is author of Diplomacy Lessons: Realism for an Unloved Superpower, a new history of Greek terrorism, Greek Urban Warriors: Resistance and Terrorism 1967-2014, and a forthcoming mobile application on ancient places in Greece.
Brady lives in Athens under the Acropolis, and is an enthusiastic cyclist, road or off-road.
Jeff Andreoni
Guide
Originally from Rhode Island, Jeff is a writer, traveler and creator who currently resides in Athens. Jeff studied Art History in Rome and Florence and Anthropology in London at UCL. After working as an art critic in London he decided to get away from the city and moved to Greece. Jeff also studied in Russia for two years and speaks Russian fluently. He has been leading tours in Europe and Russia since 2006 and is also a travel writer. In 2012, he kayaked the Ukraine's Dnieper River.  Jeff is active in the sharing economy movement. He's happy to have his American mother nearby; she retired to live on Aegina island.
Regina Tassitano
Culinary & Wellness Consultant
Regina was born in Sao Paulo, Brazil. After working in journalism, publishing, and public relations in her home country, she moved to London to study Chinese medicine. On holidays, she fell in love with Greek island light, and in 1981 moved to the island of Naxos. In 1991 she came to Athens, where she still lives. Among her passions is traditional foods of the world. She is a skilled cook and had opened Athens' first Brazilian restaurant. Regina is one of Greece's best known practitioners of Shiatsu, which she uses along with neuromuscular massage. She is also an accredited Pilates teacher. She is fluent in Portuguese, English, Greek and Italian